Shop Home > Inner Child Essences
Inner Child Essences

Inner Child Essences

Created by Shimara Kumara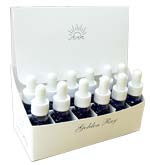 Inner Child Essence Sets Sets of 12 or all 36.
Healing the inner child helps us develop a more positive personality, balanced emotions and greater spiritual connection, as well as creating powerful soul growth. Shimara has created these 36 beautiful flower & gem essence combinations to facilitate the healing of your Inner Child and to help you return to the radiance of your pure, true self. There is also a set of Divination cards to accompany this set.
Inner Child Essences
Acceptance
Self denial, resentment, or 'victim consciousness'


The nature of acceptance is of being at one with life and with the Creator. From acceptance of ones situation stems the ability to feel many other ...
Weight
ex tax
inc tax

15ml Acceptance


IC_ACC
0.065 kg
£ 8.04
£ 9.65
Balance
Balance at all levels, especially emotional


This Essence helps restore balance to those whose personality is very up and down. One day they are in harmony, the next day they are not at peace ...
Be Here Now
Grounding


Sustaining the development of the Inner Child through the grounding of energies. When it is difficult to consciously work on Inner Child issues, th...
Weight
ex tax
inc tax

15ml Be Here Now


IC_BEH
0.065 kg
£ 8.04
£ 9.65
Birth
Releasing birth trauma


Held in the consciousness of every Inner Child is the memory of birthing into a physical body. For most of us our birth was one of the most traumat...
Courage
Releasing & clearing fears, including karmic fears


The courage of a child can be seen clearly when the aspect of fearlessness takes over and the child climbs a tree many times its own size with no f...
Decisive
Lacking trust in ones own judgement, intuition


Indecision comes when we are not able to trust our intuition, for this aspect of our divine nature will always guide us to the right decision. The ...
Weight
ex tax
inc tax

15ml Becoming Decisive


IC_DEC
0.065 kg
£ 8.04
£ 9.65
Delight
Helps transform over seriousness or despondency


A young child has the ability to delight in the simple pleasures of life, a playfulness which is completely unselfconscious and full of natural ali...
Faith
Lacking faith and trust


Our original faith in a truly loving Creator, a Mother Earth which supports and nurtures us through life, and a Divine Universe which shows us the ...
Family
Helps to clear & release inherited family patterns


This essence helps to release the 'negative' patterning of ones ancestors and transform it. This helps to change our consciousness and further heal...
Father
Father issues or patterns relating to men


This essence helps to release any difficult patterns or emotions related to the father or father figure. Helps develop more love, understanding and...