Dear Friends,
With the celebration of Halloween and Samhain behind us we have just passed the mid-way point between the September Equinox and the December Solstice. In the northern hemisphere we are moving into the winter months where shorter and shorter daylight hours beckon us inside for rest, contemplation, and rejuvenation.
The trees in the countryside around us are reflecting this change very clearly now in a display of beautiful golden colours. Then there are the drifts of fallen leaves piling up around the garden as the autumn winds encourage them to become compost for next year.
Despite this there are still roses in bloom in our garden to enjoy, including a beautiful Peace Rose we discovered the other day quietly radiating its peaceful vibrations into the world. Such a gift to enjoy!
In E-Light this Month: the Energies of November, New Moon, 11-11 Gateway, Full Moon Lunar Eclipse, Influence of Scorpio, Chaos & the need for Anchor Points, Essence Suggestions for November & our latest Special Offers and News.
All of the Essences, articles and special offers mentioned in this newsletter can be found on our web site at - www.crystalherbs.com

The energies of November will take us ever deeper into the flow of transformational energy that has been steadily gathering in pace and intensity throughout October.
This is positive, focussed energy with its attention on helping us to expand our consciousness so that we can grow and evolve. However, it is not going to wait politely for us make up our minds to change, so we could experience it as being quite edgy and intense.
There is potential for change to take place in dramatic, fast - moving and unexpected ways this month as old and new ideologies clash in the world. Indeed, endings will be a strong theme over the next few weeks, something that will continue on into the early part of next year.
One of the dominant themes this month centres on the exposure of corruption, lack of integrity and accountability, particularly with respect to large organisations, governments, and individuals in positions of power. Also, with the sun in Scorpio we can expect revelations and deep dark secrets to come to the fore revealing those things that are not for the highest good.
The new moon was on November 4th and we may experience a particularly intense period around this time as the Sun and Moon in Scorpio oppose Uranus in Taurus. Unexpected events on the world stage could challenge our sense of security or we may find ourselves surprised by a revelation that brings a startling clarity to something we had not wanted to look at, individually or collectively.
This is not comfortable energy but remember that healing / change can only take place when we choose to take ownership of a problem or issue. The solution is then able to present itself. To help us with this Venus is conjunct the Galactic Centre in Sagittarius over this period which will facilitate a flow of high frequency light and information, expansive energies that will help us to vision something new for our future.
The energies incoming through the 11-11 gateway will as always, contain positive high frequency light codes that will stimulate soul alignment and greater connection with our divine self. Take advantage of these energies to help expand your perspective and accelerate your transformation.
We start a new eclipse season this month on the Scorpio / Taurus axis. Lunar eclipses tend to emphasis endings while solar eclipses bring new beginnings.
The full moon lunar eclipse on November 19th, exact at 8.57 am UK time, is likely to bring all of the issues related to Scorpio and Taurus strongly into our awareness. This will be a great time to release anything that no longer serves you. Scorpio energies tend to root around in our emotional storage bins to see what needs recycling so don't be surprised if emotions run high for a while. Just do your best to allow what needs to surface to have space even if it is initially uncomfortable.
On the world stage we may see the previously hidden secrets of the rich and powerful being illuminated in this energy along with volatility in financial and economic affairs. Unexpected and extreme weather events are also a possibility together with the vociferous expression of opposing viewpoints, particularly around freedom and human rights.
This energy has the potential to feel uncomfortable in many ways so remember to breath and allow the chaos of change to flow around you. Stay connected to yourself and focus only on where it is important for you to make changes. This way you will have the winds of change in your sails and will be able to move forward with ease and grace.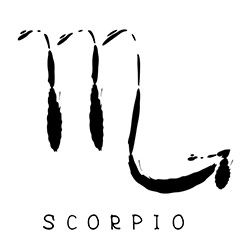 The sun moved into the constellation of Scorpio on October 23rd providing us with the perfect energetic backdrop to all the other planetary activity for November. When the sun magnifies the watery feminine energies of Scorpio, the energetic focus is always one of deep inner transformation.
Scorpio energy is warrior energy, and it will unequivocally take us deep into the subterranean world of our subconscious, emotional nature to confront anything that is holding us back. There is a 'death and rebirth' flavour to these energies that can feel both intense and challenging if we are tempted to resist the proffered invitation to make any changes that might be necessary.
Use this deeply purifying, transformational energy to help you move forward this month with ease and grace.
The energies of November will take us ever deeper into the flow of transformational energy that has been steadily gathering in pace and intensity throughout October
We have been in a period of accelerating transformation for some time, and it has now reached a point of intensity where the chaos of change that this brings with it is reaching further into our everyday lives.
This can feel very destabilising and challenging to our sense of safety and security in the world. It can also trigger unconscious memories of being incarnated on the planet during previous times of chaos and destruction, for instance at the end of Atlantis.
It is very important that we recognise that this period is not the same as others that we might have experienced. Previously the Earth and humanity were spiralling down in frequency, and it was not possible to turn this around for many reasons. This is not the case now, however. Our planet and all the various forms of life that call her home are currently being bathed in high frequency light that is causing the vibrations of both the Earth and humanity to spiral upwards in frequency helping us to transition out of the 3rd dimension and into the 5th.
The chaos that we see in the world and sometimes in our own lives is the result of that transformational change taking place. Low frequency energies, along with the patterning, structures and creations that have their roots in the old energy have to be dismantled in order to allow something new to unfold. This is no different than the effect that we experience as individuals when we take a deep acting, high frequency combination of essences to dissolve a block in our energy fields.
As the old energy releases, we can experience a certain amount of emotional turbulence that sometimes feels temporarily uncomfortable and destabilising. Simply remembering to keep as balanced a perspective as you can on what is really going on will be very helpful over the coming weeks and months. Just know that everything is in the right place even if it is challenging to deal with on an everyday level.
At a collective level we first have to weed the communal vegetable patch before we can replant it with something that will be more life enhancing for everyone. Recognise that your choices are important in that process and keep your personal vibrational frequency as high as you can.
Anchor Points  
If our anchor points in life are primarily in the outer world it can be less easy for us to negotiate periods of chaos and change. The potential to lose yourself in distracting events or strong polarities is much greater in this kind of energy. Now would be a really good time to review this and to make sure that you have a few simple resources that you can use to help you stay anchored into the reality that you are choosing to energise in your life. Here are a few possibilities to consider;
Conscious breathing: taking a few moments at different times of the day to pause and simply focus on your breath creates a wonderfully simple internal anchor point. Just breath in slowly and deeply, then breath out without pausing, again slowly and deeply. Repeat as often as needed to bring you back into harmony and balance within yourself.
Spend time in nature: going for a walk somewhere where you can connect with the natural world will quickly bring you back to yourself if you have become scattered and distracted. If you are unable to do this physically for some reason then take an imaginary walk in a favourite place, feeling the sensations of what this would be like as strongly as you can in your body. Feel the sun and the breeze on your face, paddle in the sea and feel the temperature of the water, imagine how it would feel to walk bare foot on the grass or a sandy beach etc.
Daily connection: make a quiet space each day to check in with yourself, to meditate and connect with your own internal guidance and truth. Anchor yourself into the Earth through your grounding cord, notice what thoughts and feelings are in your awareness. Allow them to be present with you so that anything that needs to leave can do so. Fill and surround yourself in light and violet flame to help bring you into alignment with your soul for guidance. Listen in your heart to what is important for you.
Gratitude: taking a few moments each day to be in gratitude for who you are and what you have in your life can also be a powerful anchor point.

Essence Suggestions for November
Cultivating the ability to surf the intensifying waves of change and transformation with a degree of perspective and awareness is something that we might all find useful in this month's energy flow. Our essence suggestions this month are all focussed on providing support with this.
Stability within Chaos
Watching chaotic events unfold can feel very destabilising and challenging to our sense of safety and security in the world. It can also trigger unconscious memories of previous lives we have had where chaos and destruction has played out, for instance at the end of Atlantis.
If you find yourself feeling unusually fearful this month, recognise that the energies and current events have triggered some buried fear and allow it space to surface and clear. Essences to help you with this would be either, Inner Calm; transforming fear, Feeling Safe; trusting life, Karmic Pink Rose or Strength and Courage Spray; overcoming fear.
In times of chaos and confusion where we feel that our security is threatened, we often forget that we can stabilise ourselves through the simple process of remembering to ground and connect with the Earth. Instead, we tend to draw up anchor and begin to drift in a sea of increasing discomfort in which we are not present to evaluate the actual reality of what is going on. Check out Base Chakra, Earth Star, Mother Earth, Being Present; becoming grounded, and Earth Connection Spray; strong foundations, to see which would most help you regain your balance and equilibrium.
Stay Connected to Yourself
Meditation and living from your heart centre are powerful ways of energising your connection with your true self and the wisdom and guidance that you need to steer you through life, regardless of what is going on around you. Either Inner Focus; enhancing meditation or Soul Connection; enlightenment would help to deepen your experience in meditation, while Heart Chakra, Inner Wisdom; connecting heart & mind or Unconditional Love would help you stay connected to your heart centre.
Emotional Cleansing
Scorpio energies tend to root around in our emotional storage bins looking for any unhealthy emotions that we might have stored away in them. While this can be an uncomfortable experience it can also be extremely helpful because anything stored away like this is just baggage that we cannot take forward with us.
If you find yourself facing an unexpected emotional trigger this month, just take a moment to breath and allow the emotion space to come into awareness. Do your best to observe it rather than getting sucked into it so that you can make new choices.
Here are a few suggestions for essences that work with some of our most common emotional triggers; Inner Peace; transforming anger, Inner Freedom; transforming judgement, Forgiveness; transforming guilt, Inner Certainty; transforming doubt, Feeling Worthy; transforming unworthiness, Healing Bereavement; transforming grief, & Letting Go; dissolving attachment.
Lastly, why not treat yourself to one of our Archangel Essence Sprays to help you navigate the waves of change with greater ease and grace. We particularly like to use the Archangel Michael Spray when we feel in need of extra strength & courage and the Violet Flame Spray to help us transmute old energies we no longer need.

Special Offers for November
We have a new selection of special offers this month with each of the Essences and Sets below on special offer - with a discount of 20%.
Individual & Combination Essences

Thankfulness - 20% Discount
Thankfulness and gratitude are amongst the most life enhancing and positive attitudes available to us. This lovely combination is for those seeking to expand the positive qualities of thankfulness and gratitude in their lives, helping to support the development of these beautiful life enhancing virtues as well as encouraging positive self-responsibility.
Thankfulness Essence | Divine Harmony Essences | from £4.88
----------------------

Soul Star Essence - 20% Discount
This subtle energy point is above the higher chakras over the crown. When activated it is aligned with the soul, all 'higher' energies, star systems and the universe, allowing a greater amount of soul energy, guidance and healing to reach the mind and body.
Soul Star Essence | Rainbow Light Body Essences | £7.76
----------------------

Perdita Rose Essence - 20% Discount
This essence works through the heart chakra to promote the qualities of purity and unconditional love. It is a helpful essence for anyone who experiences feelings of shame that do not allow them to see the radiance of their true being.
Perdita Rose Essence | Rose Collection Essences | from £4.48
----------------------

Lapis Lazuli Essence - 20% Discount
Lapis Lazuli is a wonderful Essence for self expression and the Throat Chakra. It helps those who have shy, introverted or retiring personalities through its ability to stimulate spiritual & personal self-expression. It also promotes the release of buried emotions and hidden fears as well as being a potent cleanser of unwanted energies from the energetic blueprint.
Lapis Lazuli Essence | Gem & Crystal Essences | from £4.52
----------------------

Brow Chakra Essence - 20% Discount
This is a powerful and very useful combination for working with issues around inner knowing or intuition and a lack of faith in yourself or the universe. Also helpful if you find that you have an overly mental approach to life, an inability to focus your thoughts or a feeling of being stuck in the small details of life. Good also for feelings of 'I don't know'.
Brow Chakra Essence | Chakra Essences | from £4.88
----------------------

Cosmos Flower Essence - 20% Discount
Cosmos links the heart chakra and the throat chakra, enhancing self-expression and promoting the release of emotional difficulties. It is a really helpful Essence if you are shy, introverted or find that you procrastinate a lot.
Cosmos Flower Essence | Single Flower Essences | From £4.52
----------------------

Pink Rose Essence - 20% Discount
Pink Rose is an excellent Essence for when you feel like you cannot get to the root of a deeply held fear, or for if you experience phobias or fears with no apparent cause in this lifetime. It will help you to unlock these old feelings and transform the crystallised energy that has collected around the issues.
Pink Rose Essence | Karmic Flower Essences | From £4.48
----------------------

Angel of Abundance - 20% Discount
The Angel of Abundance will gently support and guide you to see and release those beliefs that hold you in poverty consciousness, opening the door for new abundance of all kinds to enter your life. It will help you to remember consciously that you are a part of the flow of divine universal energy.
Angel of Abundance | Angel Essences | From £4.48
----------------------
Sets of Essences

Crystal & Gem Essences - Self Select Set of Ten - 20% Discount
Our self select single Crystal & Gem Essence sets are an ideal starter set. You can choose any 10 different single Crystal & Gem Essence Essences for your set, which will come in an attractive card presentation box. Each Essence is at Stock Level and is handmade for you with love and care, helping to ensure that we provide you with the best possible quality of Essence.
Crystal & Gem Essence Self Select Set | Crystal & Gem Essence | £38.40
----------------------

Karmic Flower Essence Set - 20% Discount
The Karmic Essences are a wonderfully useful set of Flower Essences that can help to open the inner doorways and take you straight to the heart of an issue, promoting a swift release of any unconscious belief pattern that is holding you back. There are ten deep acting Flower Essences in this set, from Fuchsia to Yellow Rattle working on a range of emotional issues and patterns.
Karmic Essence Set | Karmic Essences | from £38.40
Latest News & More...
Grounding & Feeling Safe: Base Chakra Essence Review

Our Essence Review for October is for the Base Chakra Essence. The Base Chakra Essence is all about working with fears and insecurities related to safety & survival as well as grounding. So old fears, difficulties with 'grounding', disorientation, disorganization, indecision, difficulty dealing with the pressures of life or fully manifesting creative ideas are all indications for this Essence.
Grounding & Feeling Safe: Base Chakra Essence Review
New Aura Sprays Shop Page

We've created a new page in the shop where you can find all of the different aura sprays that we offer. Essences in spray form do work slighlty differently; when you use an Essence in your auric field it can have an especially quick acting effect and so they are particularly helpful when you feel temporarily out of balance or off centre.
All of Our Flower & Crystal Essence Aura Sprays
Cleansing Negativity: Positive Vibrations Essence Spray

Our latest Essence Review is for the Positive Vibrations Essence spray from the Pure Vibrations Collection. This really useful aura spray is all about cleansing and purification at an energetic level. You can use it to cleanse and purify your personal energy field of negative thoughts, feelings or beliefs, and it is also a really useful Essence to use as a space clearing spray for your living or workspace.
Cleansing Negativity: Positive Vibrations Essence Spray
Well that it from us for this month. We wish you all a wonderful month filled with positive choices and send you much love with the reminder to contact us if you need further help or support on your journey.
With Peace & Love,
Catherine, Sam & All at Crystal Herbs
Tel - 01379 608059 ( +44 1379 608059 )
www.crystalherbs.com | Shop
You can also find us on:- Facebook | Twitter | Instagram
Crystal Herbs - 16 Hall Farm, Station Road, Pulham Market, Norfolk. IP21 4XF. U.K.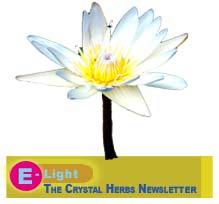 Not subscribed?
If you would like to receive E-Light by email, you can sign up to join here: