Dear Friends,
Clarity and Focus of Spiritual Ideas - our ( late running! ) Essence Review for July is for the Queen Anne's Lace Flower Essence. This lovely Essence stimulates the development of clairvoyance (inner vision) and telepathy. It opens the crown chakra and calms the mental body, enhancing the ability to see the bigger picture of a situation.
We hope that you enjoy this newsletter and as ever, we're always delighted to hear from you if you have any questions or need any help - 01379 608059 or [email protected]
All of the Flower, Gem & Crystal Essences and special offers mentioned in this newsletter can be found at: www.crystalherbs.com
Queen Anne's Lace Flower Essence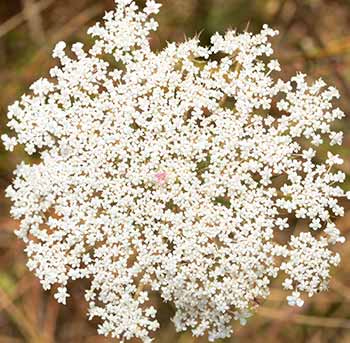 So this month's Essence Review features Queen Anne's Lace, one of the many single flower essences available in our repertory.
About Queen Anne's Lace
Queen Anne's Lace is also known as Wild Carrot and is the forerunner of the domesticated carrot that we know so well today.
If you take a walk in the countryside at this time of the year you will more than likely find it's lacey white heads waving to you from the hedgerows and field edges.
If you should decide to make your own essence, do be aware that there is a superficial resemblance between Queen Anne's Lace and its poisonous cousin Hemlock. A quick check in a botanical reference book will help you clarify the differences if necessary.
The flower heads of Queen Anne's Lace are made up of compound umbels of white flowers with a deep purple flower in the centre. It's root structure, as you might expect, is conical shaped and carrot like in formation. The closely linked structure of the flower heads and the purple centre are indicators that the essence will help us collect and integrate spiritual knowledge and understandings into a practical format that we can use in our everyday lives.
The Essence
Queen Anne's Lace is an excellent essence to use when you need a clearer perspective on what is the highest and best way forward in a particular situation.
It promotes clarity and focus of spiritual ideas so that the bigger picture of a problem or issue can be seen more clearly. It will also help to calm overactivity in the mental body so that it is easier to connect with your inner guidance and higher consciousness.
At an etheric level Queen Anne's Lace opens the crown chakra and stimulates development of clairvoyance (inner vision) and telepathy. It also helps to awaken the energetic connections that allow for a more integrated spiritual awareness to influence our everyday lives on an ongoing basis.
How to Use
Queen Anne's Lace works extremely well taken as a single essence on its own. An effective dose for most adults is four drops on the tongue 4 x a day, straight from the stock bottle. For best results take consistently for a period of two to four weeks. It is also very effective mixed into a stock combination with other deep acting Flower, Gem or Crystal essences if you want to focus on an issue in more depth.
Queen Anne's Lace is one of the essences included in our Crown Chakra combination.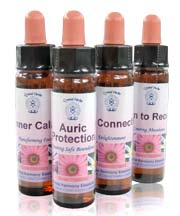 Current Special Offers
We have a new selection of special offers this month with each of the Essences and Sets below on special offer with a 20% discount.
Individual & Combination Essences
Being Present Essence - 20% Discount
This is a very helpful combination for staying fully present and focused in the now. Its good for if you find yourself easily 'spaced out', ungrounded or if you drift off into a dream world of 'what ifs', making it difficult to stay present and focused. Also helpful where there are difficulties starting or completing jobs.
Being Present Essence | Divine Harmony Essences | from £4.76
Soul Gifts - 20% Discount
This combination helps us to remember the divine attributes which we carry within our akashic record or soul memory, helping to bring through these divine accomplishments into our consciousness so that we can use them now for the joy and benefit of others and ourselves
Soul Gifts | Inner Child Essences | £7.72
Feet Chakra Essence - 20% Discount
The Feet Chakras are all about communication and connection to the energy grids of mother earth. So this is a helpful Essence for developing a greater connection with Mother Earth and her energy grids. It's also helpful if you have difficulties with feeling grounded, feelings of being disconnected from the natural world or unfounded fears about your physical safety.
Feet Chakra Essence | Chakra Essences | from £4.76
Lapis Lazuli Essence - 20% Discount
Lapis Lazuli is a wonderful Essence for self expression and the Throat Chakra. It helps those who have shy, introverted or retiring personalities through its ability to stimulate spiritual & personal self-expression. It also promotes the release of buried emotions and hidden fears as well as being a potent cleanser of unwanted energies from the energetic blueprint.
Lapis Lazuli Essence | Gem & Crystal Essences | from £4.40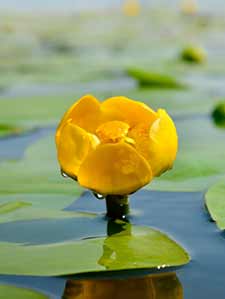 Water Lily - 20% Discount
The Water Lily Essence works with deep feelings of isolation and loneliness. It helps to clear and release unexplained feelings of grief and sadness, feelings that you do not belong here and deep old heart chakra blocks and barriers. Water Lily gently dissolves these old patterns & energies, bringing understanding and the ability to reach out to others once again.
Water Lily Essence | Karmic Essences | From £4.32
Passion Flower - Flower Essence - 20% Discount
Passion Flower essence enhances your connection with your spiritual body, increasing your ability to experience and understand visionary states and assimilate the understandings received into everyday life. Passion Flower works in the Throat & Heart chakras and stimulates the development of compassion and encourages peaceful, natural sleep patterns.
Passion Flower Essence | Flower Essences | From £4.40
Sets of Essences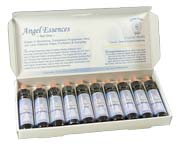 Angel Essence Set One - 20% Discount
The Angel Essences work with the energies and frequencies of the Angels to help you to create a bridge between your everyday world and that of the Angelic Realms. The ten Angel Essences in this set are: the Angels of: Abundance, Compassion, Forgiveness, Glory, Joy, Love, Patience, Peace, Purification and Tranquillity. They are lovely Essences to use, either in the moment when you're in need of help or inspiration, or longer term to work with more deep seated issues or patterns.
Angel Essence Set One | Angel Essences | From £38.40

Bach Flower Remedy Self Select Sets - 20% Discount
Our self select Bach Flower Remedy sets are an ideal starter or gift set. You can choose any 10 different Bach Flower Remedies for your set, which will come in an attractive card presentation box. Each remedy is at Stock Level and is handmade for you with love and care, helping to ensure that we provide you with the best possible quality of remedy.
10ml Bach Self Select Set | 25ml Bach Self Select Set | Bach Flower Remedies | From £28.80
Latest News, Articles & Information
The Energies of July, the Influence of Cancer and Choice Points

You can catch up with all of the articles in our recent E-Light newsletter, including: Energies of July, July Eclipses, the Influence of Cancer, Choice Points & our latest news.
Read More: E-Light - July 2019
The Sphere Essence - Creation & the Divine Feminine
Our Essence Review for June was for the Sphere Essence from the Platonic Solid & Sacred Geoemtry Essences. The Sphere represents the Void, the place from which all of creation is initiated. This is a deep, feminine energy that will help connect you with your own creative, sacred centre.
Find out more: Sphere Essence Review
Gentle Hermione – A Change to Our Rose Collection

Sweetheart Rose has been a much-loved part of our Rose Collection for many years. Sadly, the mother tincture has now run out and this version of Sweetheart Rose is no longer available from any UK rose grower. So instead we are delighted to introduce you to the beautiful vibrations of the Gentle Hermione Rose!
Find out more: Gentle Hermione – A Change to Our Rose Collection
Well that's it from us, it just remains for us to wish you a good month and to remind you to contact us if you need any help or support: Contact Us
With Love, Peace & Blessings,
Catherine, Sam & All at Crystal Herbs
Tel - 01379 608059 ( +44 1379 608059 )
www.crystalherbs.com | Shop | [email protected]
You can also find us on:- Facebook | Twitter | Google+ | Instagram