Dear Friends,
Being Present - Grounding & More - our Essence Review for March is for our Being Present Essence. This lovely combination helps you to stay fully present and focused in the now. Its good for if you find yourself easily 'spaced out', ungrounded or find it difficult to stay present and focused.
We hope that you enjoy this newsletter and as ever, we're always delighted to hear from you if you have any questions or need any help - 01379 608059 or [email protected]
All of the Flower, Gem & Crystal Essences and special offers mentioned in this newsletter can be found at: www.crystalherbs.com
Being Present Essence Review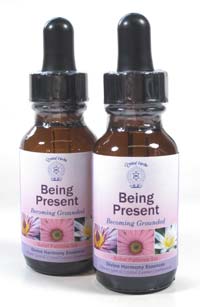 The essence we have chosen for review this month is the Being Present: becoming grounded combination from our Divine Harmony Essences.
With so much currently going on for us, both individually and in the world around us, cultivating the ability to stay present, grounded and connected to ourselves is especially important.
Managing Your Life
In our everyday 3rd dimensional reality, the habit of by-passing the present moment is a very entrenched one. Many people still spend most of their time either in the past thinking about what was, or in the future worrying about what might be. In this situation life seems uncertain and we can easily feel disempowered and at the mercy of events.
When you can stay present with yourself and focussed in the present moment, you have access to the 'driving seat' of your life. From here you can make a choice of how to respond to life from a connected, balanced perspective, thoughts and emotions are more easily managed and old patterns of behaviour become redundant.
Staying Conscious
Being present with yourself takes practice and a degree of mindfulness, but it is well worth the investment of time and energy.
Use your breath as a focus point to bring you back to yourself when you wander. Feel your body responding with greater aliveness and vigour when you are fully present in it. Make sure that you consciously connect with your grounding cord each day so that you are properly anchored into the Earth.
Your grounding cord is an energetic connection that runs from your base chakra to your earth star chakra below your feet. You can have fun with this by choosing a colour that feels good for you and experimenting with running energy up from the Earth to your heart chakra and back again. Notice how much more stable and capable you feel in this place, even when life presents you with unexpected or difficult circumstances.
Simply being present with what is, can make space for previously unseen opportunities to appear, rather like a doorway appearing that we had no idea was there.
The Being Present Combination
The being present combination is a powerful blend of flower, and gem essences specifically designed to help promote the ability to stay present and connected with yourself. It contains the following essences: Dandelion, Loosestrife, Sweet Pea, Dark Opal, Cuprite & Jet.
Indications that it might be particularly helpful include:
Not being able to stay focused and present
Difficulty connecting with yourself
Living in either the past or future
Feeling unstable and insecure
Not able to make life work effectively
Easily distracted or upset by other people or outside events
It will promote:
A feeling a being fully anchored into your energetic foundations
The ability to function in the present moment
The ability to stay connected with yourself
The ability to go with the flow of life more easily
A greater sense of presence and fulfilment
How to Use
An effective dose for most adults is 4 drops on the tongue 3 or 4 x a day taken consistently until the bottle is finished.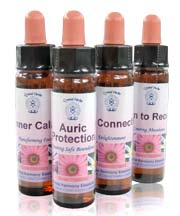 Current Special Offers
We have a new selection of special offers this month with each of the Essences and Sets below on special offer with a 20% discount.
Individual & Combination Essences
Self Acceptance Essence - 20% Discount
This is an excellent combination for when you need help with issues around self love and accepting yourself or others. It helps to promote a greater sense of self-acceptance and the ability to love yourself as well as gently dissolving feelings of judgment against yourself or others. It also helps to open your heart chakra to receive love.
Self Acceptance Essence | Divine Harmony Essences | from £4.76
Hexahedron Essence - 20% Discount
The Hexahedron provides a structure within which creative intention can be brought into physical form. You can use it to help strengthen your etheric blueprint and to promote a greater awareness of how your energetic structure and the structure of the earth are intimately connected. This is a good essence to take when you need to ground or bring greater focus and structure to a creative project.
Hexahedron Essence | Platonic Solid & Sacred Geometry Essences | from £4.32
Cosmos Flower Essence - 20% Discount
Cosmos links the heart chakra and the throat chakra, enhancing self-expression and promoting the release of emotional difficulties. It is a really helpful Essence if you are shy, introverted or find that you procrastinate a lot.
Cosmos Flower Essence | Single Flower Essences | From £4.40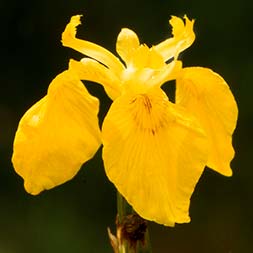 Wild Iris Essence - 20% Discount
Wild Iris is a really good Essence for those working with deep unconscious feelings of responsibility for the welfare of others or the planet. It's helpful for where there are unresolved power issues, the need to change others or where the neeed to be in charge is very deep rooted. There can often be feelings of deep responsibility like a heavy weight on your shoulders.
Wild Iris Essence | Karmic Essences | From £4.32
Truth - Inner Child Essence - 20% Discount
This essence is all about self expression and will help you to speak your truth, unafraid and coming from an open heart, the place of unconditional Love. In this way the truth is harmful to none, everyone will know exactly how you feel, from an honest place of integrity, from your true, child-like self.
Truth Essence | Inner Child Essences | £7.72
Base Chakra Essence - 20% Discount
The Base Chakra Essence is all about working with fears and insecurities related to safety & survival as well as grounding. So old fears, difficulties with 'grounding', disorientation, disorganization, indecision, difficulty dealing with the pressures of life or fully manifesting creative ideas are all indications for this Essence. When the Base chakra is fully functioning there is a sense of being grounded, safe, secure, abundant and filled with vibrant well-being.
Base Chakra Essence | Chakra Essences | from £4.76
Sets of Essences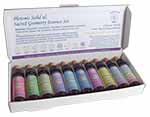 Platonic Solid Essence Set - 20% Discount
The ten Platonic Solid & Sacred Geometry Essences are made from sacred geometric shapes and are powerful reminders to our energy body of it's original matrix or blueprint. Working at a subtle level they can encourage restoration of order and balance according to the current energetic blueprint for the expansion of human consciousness.
Platonic Solid Essence Set | Platonic Solid Essences | From £38.40

Karmic Flower Essence Set - 20% Discount
The Karmic Essences are a wonderfully useful set of Flower Essences that can help to open the inner doorways and take you straight to the heart of an issue, promoting a swift release of any unconscious belief pattern that is holding you back. There are ten deep acting Flower Essences in this set, from Fuchsia to Yellow Rattle working on a range of emotional issues and patterns.
Karmic Essence Set | Karmic Essences | from £38.40
Latest News, Articles & Information
A Quick Update....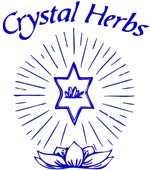 Dear Friends,
Just to let you know that Crystal Herbs is currently operating as normal. We are doing our best to stay focussed in the present moment and will respond to your orders and queries as quickly as we can. We are all healthy and taking every precaution to ensure that we stay that way. We hope that the same is true for you, however if you are currently feeling unwell or are caught up in difficult life events, know that we are holding you in our hearts with a focus on healing and hope. Please do contact us if you need help, support or essences: we will be happy to help.
Love & blessings from the team at Crystal Herbs
9 Essences to Help You Stay Calm & Balanced

A few thoughts on the current Coronavirus situation – our world has been in a particularly unsettled, chaotic state for some time now, but despite this everyday life has continued to function with a reasonable degree of 'normality' for most people. However, this has now changed with the unexpected arrival of the coronavirus, a pandemic which is gradually turning everything upside down and rocking the foundations of everyday lives all around the world.
9 Essences to Help You Stay Calm & Balanced
Opening Your Heart: Heart Chakra Essence Review

The Heart Chakra Essence is a powerful combination to help you to open your heart chakra and connect with unconditional love, releasing feelings of loneliness, separation, isolation, fear of closeness or feelings of being unloved.
The Heart Chakra Essence Review
Well that's it from us, it just remains for us to wish you a good month and to remind you to contact us if you need any help or support: Contact Us
With Love, Peace & Blessings,
Catherine, Sam & All at Crystal Herbs
Tel - 01379 608059 ( +44 1379 608059 )
www.crystalherbs.com | Shop | [email protected]
You can also find us on:- Facebook | Twitter | Google+ | Instagram