Dear Friends,
Calmness, Relaxation & Serenity - our Essence Review for November is for the Chamomile Flower Essence. This lovely single Flower Essence helps to align the mental body and balances the solar plexus chakra allowing the release of emotional tensions, bringing calmness, serenity & freedom from worry.
We hope that you enjoy this newsletter and as ever, we're always delighted to hear from you if you have any questions or need any help - 01379 608059 or [email protected]
All of the Flower, Gem & Crystal Essences and special offers mentioned in this newsletter can be found at: www.crystalherbs.com
Chamomile Flower Essence Review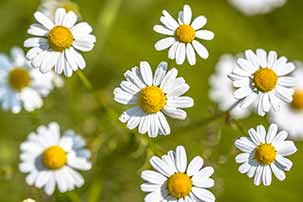 So this month's Essence Review features Chamomile, one of the many single flower essences available in our repertory.
About Chamomile
The Chamomile that we use to make our flower essence, is the version of Chamomile commonly called German Chamomile or Matricaria chamomilla.
There are other 'chamomiles' so if you want to have a go at making your own mother tincture do check that you have located the correct version first.
German Chamomile is a very well-known and loved plant to be found flowering in many herb gardens, flower beds and field edges during June & July each year. Its fragrant flowers, with their bright yellow centres and surrounding white petalled frill, are often dried to make a popular, soothing tea. An essential oil is also made from this plant that is widely used in aromatherapy.
The Chamomile Flower Essence
Chamomile is an excellent essence to help us negotiate the increasingly stressful pace of modern-day life.
It is all too easy for us to become embroiled in the 24/7, always on nature of everyday life and forget to step back, breath, regroup and relax. Instead we plough on feeling overstretched, overwhelmed and increasingly uncomfortable. In this situation Chamomile Essence would be an excellent support to help bring about a greater degree of balance and harmony.
Chamomile essence has a calming effect on the emotional and mental bodies and will facilitate a release of the kind of emotional tensions that so often build up when we are dealing with stressful life situations and events.
This is a wonderful essence to take to enhance any meditation practice. It enhances spiritual connection and makes it easier for us to move beyond the everyday mind into a more expanded vibration where there is greater clarity, and a perspective that enables us to see the bigger picture of a situation more easily.
Chamomile essence promotes calmness, relaxation, serenity and freedom from worry.
How to Use
Chamomile works extremely well taken as a single essence on its own. An effective dose for most adults is four drops on the tongue 4 x a day, straight from the stock bottle. For best results take consistently for a period of two to four weeks.
It is also very effective mixed into a stock combination with other deep acting Flower, Gem or Crystal essences if you want to focus on an issue in more depth.
Chamomile is included in two combinations in our Divine Harmony Essences range: Inner Harmony; relaxation and Inner Focus; enhancing meditation.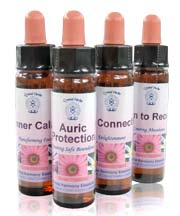 Current Special Offers
We have a new selection of special offers this month with each of the Essences and Sets below on special offer with a 20% discount.
Individual & Combination Essences
Letting Go Essence - 20% Discount
A really useful essence helping you to work with emotional pain, perhaps caused by separation, divorce or bereavement. Its' also good if you are too emotionally attached, clinging to old relationships or seeking love. The Letting Go Essence helps you to gently release old emotional pain leaving you stronger and more able to create truly loving relationships.
Letting Go Essence | Divine Harmony Essences | from £4.76
Confidence Essence - 20% Discount
The Confidence Essence is focused on promoting a greater sense of true inner confidence and self-assurance. It helps to release any old unconscious patterns that undermine your sense of self-confidence and any old self-defeating patterns that might block you from manifesting your true potential.
Confidence Essence | Divine Harmony Essences | from £4.76
Soul Connection Essence - 20% Discount
The Soul Connection combination helps you to expand your awareness and strengthen your connection to spirit. It reminds your physical and energetic structures how to absorb and use greater quantities of light and love - thus integrating spirit & matter, expanding consciousness and your soul connection.
Soul Connection Essence | Divine Harmony Essences | from £4.76
Crown Chakra Essence - 20% Discount
The Crown Chakra opens you to the greater world beyond your material existence and connects you with the timeless space of all knowing. This combination helps to create and nurture a greater spiritual connection and it is particularly helpful if you find it difficult to see beyond this third dimensional existence.
Crown Chakra Essence | Chakra Essences | from £4.76
Unconditional Love Essence - 20% Discount
The Unconditional Love combination is a blend of Rose Essences holding the vibrational frequency of unconditional love and will take you deep within your own heart chakra to connect with the infinite source of love held within. Its a combination of the following Rose Essences: Compassion, Perdita, Sweetheart & Ruby Red.
Unconditional Love Essence | Rose Collection Essences | From £4.76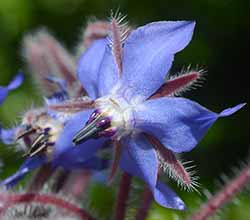 Borage Flower Essence - 20% Discount
Borage helps to promote feelings of joy, happiness and courage, dispelling sorrow and lifting the spirits. It does this through its ability to open the heart chakra and release emotional tensions. As well as opening the heart chakra, Borage strengthens the heart chakra meridian and relaxes the emotional body.
Borage Flower Essence | Single Flower Essences | from £4.40
Sets of Essences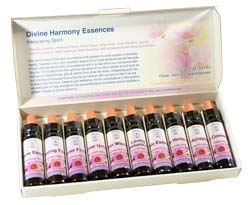 Integrating Spirit Set - Divine Harmony Essences - 20% Discount
A set of ten powerful Essence combinations designed to help strengthen the personality / soul connection and to facilitate a greater degree of divine harmony. The set contains the following Divine Harmony Essence combinations: Female Essence, Healing Family, Inner Focus, Inner Unity, Inner Wisdom, Loving Communication, Male Essence, New Horizons, Self Acceptance and Soul Connection.
Integrating Spirit Set | Divine Harmony Essences | from £41.60

Pure Vibrations Collection Set - 20% Discount
A complete set of all ten of the Pure Vibrations Collection Essence Sprays. These beautiful Essence Sprays are designed specifically to provide the instant energetic support that can help you maintain positive vibrational alignment no matter what challenges you face in life. Please note that there is no box with this set.
Pure Vibrations Collection Set | Pure Vibrations Collection | From £73.60
Latest News, Articles & Information
Earth Star Essence Review – Grounding & Presence
This month's Essence Review is for the Earth Star combination from the Rainbow Light Body Essences. This powerful and deep acting Essence helps you to effectively ground and focus energy. Being properly grounded in this way is essential for us to attune fully with our Higher-Selves and the higher realms.
Find out more: Earth Star Essence Review - Grounding & Presence
Well that's it from us, it just remains for us to wish you a good month and to remind you to contact us if you need any help or support: Contact Us
With Love, Peace & Blessings,
Catherine, Sam & All at Crystal Herbs
Tel - 01379 608059 ( +44 1379 608059 )
www.crystalherbs.com | Shop | [email protected]
You can also find us on:- Facebook | Twitter | Google+ | Instagram