Dear Friends,
As we head into August it is hard not to stop and review just how much our world and our lives have changed since this time last year. For many, the normal August adventures of holiday time out and freedom from the routine of school have been seriously disrupted and many are having to look for new ways of enjoying the summer downtime this year.
Hopefully, you have all risen to the challenge of going with the flow and have found alternative ways of enjoying the pleasures of the holiday season. If in need of reassurance just take a moment to look around the countryside and you will see that harvesting is just beginning and that nature is still providing for us in the same way that she did this time last year.
In E-Light this Month: the Energies of August, Full Moon, Lions Gate Portal 8-8, The Energies of Leo, The Challenge of Self Love, Essence Suggestions for August & our latest Special Offers and News.
All of the Essences, articles and special offers mentioned in this newsletter can be found on our web site at - www.crystalherbs.com

August will be a month to stay very connected to yourself and focussed on what you wish to create in your life over the remaining months of the year. There is potential early in the month for the energy flow to promote rather over enthusiastic, frenetic, volatile activity as well as unexpected and unusual events. This is great energy to help move the events in your life but think first and act second might be the most comfortable way to negotiate it.
There is also a thread in the energy flow that will be stirring our emotional underworld this month. So, for a while it could feel as though there is a lot going on underneath the surface of your consciousness that you cannot fully connect with. Stay with this process and it will eventually bring you some useful clarity that will help you to set your direction for the coming months of the year.
We have a full moon on August 3rd when the moon will be in Aquarius and the sun in Leo. Full moons always bring illumination and here we will have a focus on the need to cleanse and release old issues from the past that stand in the way of greater soul growth.
You are being requested to look beyond any issues that might be revealed and focus on who you really are as a soul and the unique gifts that you have to offer to the collective. The jigsaw of life is being recreated and we each carry a unique piece of the new picture under construction.
As the full moon energies join forces with the energies flowing in through the Lion's Gate Portal, open your heart to the magnificence of your true self and allow it to illuminate your pathway forward over the next few months.
Between July 27th and August 12th each year the Earth comes into alignment with the Galactic Core, the Sun and the star Sirius, creating a portal or stargate known as the Lions Gate. While this portal is open, we receive a download of high frequency light containing the codes we need to take us up the spiral of spiritual evolution over the coming 12 months.
This light flows through the Lions Gate, which is open to its fullest on August 8th and into the earth grid points of the Sphinx and the Great Pyramid of Giza. This highly transformational energy also flows through each one of us, so do take some time out to connect, absorb, integrate and ground what is being offered. It will greatly assist you in transforming anything that is holding you back.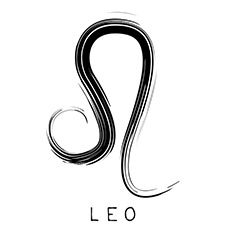 All the planetary activities this month are set against the backdrop of in-flowing energies from the constellation of Leo.
The fiery, powerful energies of Leo are associated with the Sun and depicted in the western astrological zodiac by the sign of the Lion. It is significant that Leo is the only sign in the zodiac to have the same planetary ruler at all three levels of astrological interpretation, so whether we look from a personality, soul or monadic perspective the Sun is always the ruler of Leo.
This unique relationship with the sun at the heart of our universe is an indication of just how powerfully transformational the energies of Leo can be. The liberating, universal principles of Love and Freedom flow through the constellation of Leo, energies that particularly stimulate the alignment of the heart with the soul and illuminate the need for the right use of power and the will to create that which can serve the common good.
August will be a month to stay very connected to yourself and focussed on what you wish to create in your life over the remaining months of the year
How many of us see ourselves as truly lovable, valuable, and acceptable? The energetics this month could well bring our current status on this question sharply into focus for review.
We are being requested to embody more of our soul consciousness and to allow our true self to step forward. The incoming energies are beautiful frequencies of encoded light and love designed to help us with this by reminding us that at every level of our existence, right down to and including the physical, we are much loved and valued aspects of creation.
However, many of us still carry imprints of old programming that make it difficult for us to really accept this as a truth while we are still in a physical body. Painful resistance and layers of defences often stand in the way without us being fully aware that they are there, until we are challenged by the arrival of high frequency love and light requesting integration. This is something that is currently happening with ever increasing frequency and intensity and it is beautifully designed to help us clear the filters of illusion that have kept us separate from the truth about ourselves.
So often what comes to the fore as we go through the many rounds of clearing our filters is the deep pain of not feeling loved, valued, and accepted just for being ourselves. No matter how much we understand that those around us were simply not able to offer us this validation as we grew up, the painful belief that there is something wrong with us, continues to haunt us until we gather the courage to look deeper for the truth.
The frequency of love is like a flow of water in that it will gently seep into and under everything in its path. Gradually it will work its way into the cracks in our resistance and wash the hidden pain and grief to the surface for release and transformation. Then, as we gather the unloved fragments of ourselves together and allow the pain to dissipate, we get to the nugget of gold, the truth that we have hidden from ourselves. The validation that we have been desperately searching for outside ourselves has been hidden deep within our hearts all along.
Allow the incoming frequencies of light and love available to us this month to cleanse what stands in the way of you seeing the truth about yourself. Let it expand the flame of love embedded deep within your heart so that you remember that you are a powerful creator, here to water the seeds of truth with your love and light so that new possibilities can come forth for the benefit of all.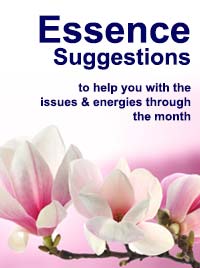 Essence Suggestions for August
Vibrational essences are wonderful friends when you find yourself in need of support to help you move through deeply painful issues that you know are holding you back.
The configuration of positive energies held within an essence combination will gently release and transform the old vibrations stuck in your energetic system so that new perspectives can be seen, and previous choices re-evaluated.
Our essence suggestion this month are focussed on combinations that will help with the issues we might face as we take on the challenge of loving and valuing ourselves more fully.
Let's start with the most obvious essences first. Either Feeling Worthy: transforming unworthiness, Self Acceptance: restoring unconditionality, or Self Worth would be a particularly good place to start for anyone recognising that uncomfortable feeling that somehow, they are not 'enough'.
Choose whichever of these essences speaks to you most and take a large bottle until it is finished. Stay in touch with yourself as you do so and take note of anything that comes to the surface. All our patterns are layered together and often the most obvious thing is covering something deeper that is less easy for us to see.
Clearing the Layers of Defences
So, what might we find in our hidden layers that might come flooding to the surface this month in the flow of love and light that we are being gifted with?  To get to the core of the love that we are we may find ourselves moving through several layers of resistance designed to protect us from the pain of perceived rejection and the feeling of being unloved. Judgement, resentment/blame, anger doubt and guilt are all possibilities here. Checkout Inner Freedom: transforming judgement, Self-Responsibility: transforming resentment, Inner Peace: transforming anger, Inner Certainty: transforming doubt or Forgiveness: transforming guilt for support with any of these issues.
Clearing Emotional Pain & Hurt
Stored grief and pain related to the perception that we have been rejected for who we can feel unbearable and will create a highly effective barrier that prevents us from fully opening our hearts so that we can see the truth of who we are.
If you should find yourself facing a difficult to negotiate wall of pain trying to exit from your heart chakra this month one of the following essences might be just what you need to help. Either Letting Go; dissolving attachment or Healing Bereavement; transforming grief will help you negotiate the emotional pain of rejection, while Open to Receive; creating abundance, Humility, Heart Chakra or Heart Connection Spray; living in love will help you to open your heart chakra more fully.
For some either Love or Unconditional Love might be just what you need to remind you of the spark of unconditional love that sits deep within your sacred heart.
Embodying Soul Qualities
Lastly, here are some essences to support you with embodying more of your soul qualities. Check out Soul Connection; enlightenment Soul Gifts, Causal Body and the Energetic Alignment Spray; soul connection, to see which most resonates with you.

Special Offers for August
We have a new selection of special offers this month with each of the Essences and Sets below on special offer - with a discount of 20%.
Individual & Combination Essences
Auric Protection Essence - 20% Discount
The Auric Protection Essence is a really good combination for strengthening your auric field, which makes it a helpful Essence if you are over-sensitive to the thoughts, emotions or energies of others, or have weak energetic boundaries. Good also if you feel attacked by other peoples thought forms, or find it difficult to distinguish your own emotions from those of others.
1. Auric Protection Essence | Divine Harmony Essences | from £4.76
2. Auric Protection Spray | Pure Vibrations Collection | From £8.68
Carnelian Essence - 20% Discount
Carnelian cleanses and opens the sacral chakra, releasing old patterns for transformation. It promotes emotional stability, motivation, creativity and grounding.
Carnelian Essence | Gem & Crystal Essences | From £4.40
Malachite - 20% Discount
Malachite opens the heart chakra, balances the solar plexus chakra & aligns the etheric and emotional bodies. It dispels impurities from the energetic blueprint and helps refocus difficult emotional issues. It also helps to promote balanced personal power.
Malachite Essence | Gem & Crystal Essences | From £4.40
Healing Bereavement - 20% Discount
This is an excellent support for all situations of bereavement & loss. It helps to dissolve the vibrations of grief & loss and also transforms buried grief from past lives. As these old patterns are released and transformed it becomes easier to open our hearts and renew our connection with the wholeness of life.
Healing Bereavement | Divine Harmony Essences | from £4.76
De La Hay Rose Essence - 20% Discount
This beautiful rose essence promotes a greater alignment between the heart chakra and the crown chakra which inspires the transformation of belief into inner knowing.
De La Hay Rose Essence | Rose Collection Essences | from £4.32
Inner Peace Essence - 20% Discount
This is a powerful combination to help you to release feelings of anger or rage. It's also helpful if you find it difficult to deal with anger in other people, find your own anger difficult to deal with, or have a tendency to draw angry people into your life. It can also be helpful when there is difficulty connecting with any emotions at all.
Inner Peace Essence | Divine Harmony Essences | from £4.76
Throat Chakra Essence - 20% Discount
This is a wonderful combination for self expression and is very helpful if you have difficulty knowing or expressing your truth, expressing yourself or expressing how you feel about things. It's also helpful if you feel withdrawn or feel that you have to put on a 'brave face' rather than express what's going on on the inside. Good for suppressed emotions, needs or creativity.
Throat Chakra Essence | Chakra Essences | from £4.76
Inner Light Essence - 20% Discount
The Inner Light Essence is a a blend of all five Platonic Solid Essences & Sphere, together with Gold, Shattuckite & Green Calcite. This combination will help the body and its energetic structure remember how to absorb and use the regenerative properties of light, helping to remind us of our original patterning of perfection.
Inner Light Essence | Platonic Solid & Sacred Geometry Essences | from £4.32
Sets of Essences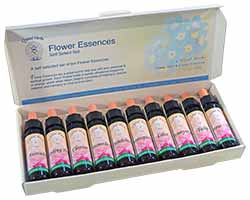 Flower Essences - Self Select Set of Ten - 20% Discount
Our self select single Flower Essence sets are an ideal starter set. You can choose any 10 different single Flower Essences for your set, which will come in an attractive card presentation box. Each Essence is at Stock Level and is handmade for you with love and care, helping to ensure that we provide you with the best possible quality of Essence.
Flower Essence Self Select Set | Flower Essences | £38.40
Belief Patterns Set - Divine Harmony Essences - 20% Discount
Belief patterns are created when emotion and thought are combined with a sufficient focus of intent. Our powerful beliefs shape the reality we create in our lives both individually and collectively. This set contains ten deep acting Flower, Gem & Crystal Essence combinations to clear & release old ingrained beliefs and to help to create more balanced outcomes & choices. The ten Essences are: Auric Protection, Being Present, Feeling Safe, Healing Abuse, Healing Relationships, Inner Harmony, Letting Go, Open to Receive, Sexuality and Transforming Addiction.
Belief Patterns Set | Divine Harmony Essences | From £41.60
Latest News & More...
Boundaries, Self Worth & Emotions: Solar Plexus Chakra Essence Review

If you are currently finding that the roller coaster of life a bit overwhelming and it's difficult to stay centred and connected to yourself, then the Solar Plexus Chakra Essence might be just the combination that you need to help you find a greater degree of balance.
Boundaries, Self Worth & Emotions: Solar Plexus Chakra Essence Review
How to Release Painful Emotions and the Best Essences to Help You

There are some painful emotions and stories that are particularly uncomfortable and difficult to release, feelings we don't want to feel and resist getting in touch with them. Here you can find some essences and tips to help.
How to Release Painful Emotions and the Best Essences to Help You
From E-Light last month, you may have missed:
The Energies of July, Power & Control Issues, Nurture Yourself, the Influence of Cancer, Weathering the Storm, Daily Maintenance, Essence Suggestions for July & more - you can read in full here.
Well that it from us for this month. We wish you all a wonderful month filled with positive self-love and acceptance and send you many blessings with the reminder to contact us if you need further help or support on your journey.
With Peace & Love,
Catherine, Sam & All at Crystal Herbs
Tel - 01379 608059 ( +44 1379 608059 )
www.crystalherbs.com | Shop
You can also find us on:- Facebook | Twitter | Instagram
Crystal Herbs - 16 Hall Farm, Station Road, Pulham Market, Norfolk. IP21 4XF. U.K.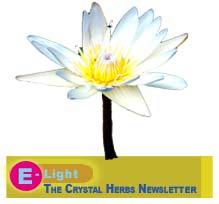 Not subscribed?
If you would like to receive E-Light by email, you can sign up to join here: