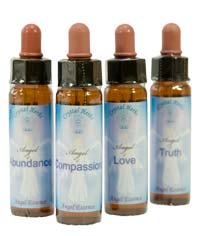 The Angel Essences
Twenty beautiful Angel Essences from Crystal Herbs
Creating a bridge between your everyday world
and that of the Angelic Realms
Each of the twenty Angel Essences in this set - from the Angel of Abundance to the Angel of Wisdom - creates a bridge between your everyday world and that of the Angelic Realms, linking you into their web of light and higher consciousness.
The Angels will work with you through their essence to help you bring the positive qualities that they embody deeper into your awareness, bringing transformation and higher awareness. Call on them for inspiration, illumination and guidance as you take these beautiful essences.
The Angel Essences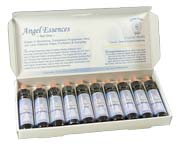 Complete or self select Angel sets
More About the Angel Essences

This beautiful set of essences was originally made at the request of the Angels themselves who wished to have another medium through which to bring more light into the world. Each Angel explained how the vibrational frequency of the flower they had chosen would help humanity and also came forward to add its own energy to that of the flowers used during the making process. They promised to assist each and every one of us who calls on their help, so do remember to request their presence as you work with this set of essences.
Throughout history the Angelic Realm has traditionally been recognized as a source of help and inspiration in our lives
The Angelic Realms
Throughout history the Angelic Realm has traditionally been recognized as a source of help and inspiration in our lives and there are many wonderful stories told all over the world that remind us of this truth.
Angels belong to a separate but parallel evolutionary stream to humanity and have always worked very closely with us, however since they vibrate at a higher vibrational frequency than we do, are not normally visible to us. They work ceaselessly and selflessly to bring about the manifestation of the Divine Plan and will be at our side with inspiration and encouragement each time we align ourselves with the higher plan of our lives. They delight in helping us to manifest the attributes of our soul and to see our lives from a greater perspective than simply that of our personality self.
Each of us has a Guardian Angel who guides and protects us through all of our lifetimes. This special Angel also holds the vision of the purpose and direction we have chosen for each lifetime firmly in the light of its higher awareness, inspiring us to manifest our greatest potential.
Connecting with the Angelic Realms
We have noticed over the years of making and using these essences that more than ever before the Angels are now able to connect more strongly with all of us. This is because the vibration on Earth has been rising steadily over recent years and we now vibrate at a higher frequency than we used to do, making it much easier for us to connect with the Angelic Realms and they with us. There has never been a better time to enlist the help of the Angels – invite them into your life now and be prepared to be enlightened and inspired.
More Information
How To Use the Angel Essences
The Angel Essences can be used in two ways; if you feel in need of inspiration take four drops and call on the help of the Angel you require - repeat as necessary. Alternatively take four drops four times a day, again asking for the Angel to be activated with each dose, until you feel a shift in consciousness.
Storage Advice - It is best to store vibrational essences in a cool place away from TV's, mobile phones, microwaves, computers etc.
Please Note - Using vibrational essences does not replace medical treatment.
Help & Advice
If you need any help or advice with choosing or using the Angel Essences, please see our Choosing An Essence page or you are most welcome to contact us
if you would like to speak to someone.

Handmade with Love & Care
From making the Mother Tincture to bottling and labelling the stock bottles that we send you, each essence is handmade with love and care helping to ensure that we provide you with the best possible quality of essence.