Practitioner Accounts
Discounts for practitioners and therapists
Would You Like to Apply for a Crystal Herbs Practitioner Account?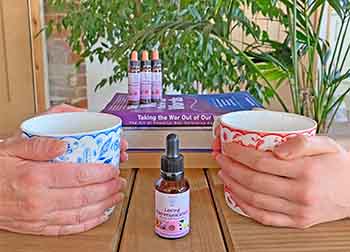 Crystal Herbs essences are powerful tools for personal growth and spiritual transformation, handmade with love and consciousness to help people to balance their emotions, transcend their limitations, and discover their true potential.
Flower, Gem & Crystal Essences offer a deep level of support for change, transformation & spiritual growth, helping people to re-balance at all levels of their beings.
We offer a 20% discount to qualified practitioners and complementary therapists who want to use our Bach Flower Remedies & Flower, Gem and Crystal Essences in their practice.
As experienced practitioners ourselves, we know that when you're looking for essences to use with your clients, the quality of the products themselves and access to great help, support and advice are invaluable.
Benefits of a Practitioner Account
You receive 20% discount on all orders you place for Bach Flower Remedies and Flower, Gem & Crystal Essences – this includes single and combination essences as well as our complete range of Essence sets.
Your practitioner account gives you the flexibility to place orders in the way that works best for you, whether you want to keep a selection of essences in stock yourself or order essences for your clients on an ' as needed' basis using our drop-shipping service.
We can provide you with a referral code to pass onto your clients so they can order their essences directly from us, saving you time and generating commission for you.
You can place orders online in our Flower Essence Shop or by telephone on 01379 608059. Where possible we aim to dispatch orders either the same or next working day.
Our online Essence & Themes Explorer & Self Help Essence Selector will help you to quickly choose the most appropriate essences for your clients.
We offer free practitioner advice by phone and email if you need extra help to choose essences for your clients.
---
Why Choose Crystal Herbs
Our aim at Crystal Herbs has always been to make and supply the best possible quality Bach Flower Remedies and Flower, Gem & Crystal Essences and to help people reconnect with the essence of who they truly are through self-empowerment and spiritual growth.
We make the widest range of Flower, Gem & Crystal Essences around, from the Bach Flower Remedies to deeper acting single essences, combinations and sprays.
We are passionate about essences! We've been creating and developing Essences for over 30 years and helping people with essences is our great joy. All of the essences that we offer are handmade with love & consciousness.
We are all trained essence practitioners and healers in our own right so we know how important it is to have high quality products and information easily available.
Worldwide Shipping - we send to individuals, practitioners and shops throughout the U.K. and to most countries around the world.
We're internationally known for the quality of our essences, the information we share on raising consciousness, the expert help and advice we offer, and our excellent customer service.
Handmade Essences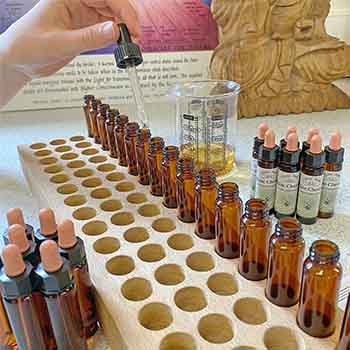 Each of our essences are handmade with love and care throughout the making process, from making the mother tincture to bottling & labelling the stock bottles that we send you, helping to ensure that we provide you with the best possible quality of essence. We love making Essences, and have been doing it for more than 30 years, and looking after the energetic integrity of our essences and ensuring that we provide you with the best possible quality of essence is key to what we do. We offer a wonderful range of different essences covering many aspects of personal and spiritual growth.
Help & Support for You
We are always happy to help you to better understand our range of essences, and are happy to offer any help and advice you may need to choose the best essences for your clients. So if you have any questions, need some help to get started or have any questions, you can always contact us and we'd be pleased to help.
Who Can Apply?
To be approved for a practitioner account you will need to be a qualified practitioner, healer or complementary therapist who is actively running a practice and seeing clients.
Apply for a Crystal Herbs Practitioner Account
---
If you are a qualified practitioner or complementary therapist and would like to use our range of essences as part of your practice, you can apply for a 'Practitioner Account' here:
Apply for a Practitioner Account
Or if you have any questions, please Contact Us


We look forward to working with you!
See Also:
Selling Our Essences | Affiliate Accounts | Wholesale Accounts