All About the Bach Flower Remedies
Discover the 38 Bach Flower Remedies and the work of Dr. Edward Bach
The Bach Flower Remedies help you to gently restore a sense of balance and harmony in your life. Created by Dr. Edward Bach in the 1930's they are simple and natural tools which help you to balance how you are thinking and feeling and can very quickly help to restore an inner sense of balance and perspective. They are simple, effective and easy to use and they can be given to adults, children, pets and plants.
What Are the Bach Flower Remedies?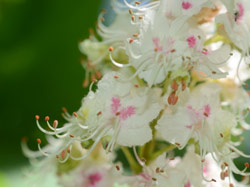 "There is no true healing unless there is a change in outlook, peace of mind, and inner happiness." Dr. Edward Bach
There are 38 Bach remedies and each one is a unique, positive vibration taken from the flower of a tree or a plant (with the exception of Rock Water). Each of these beautiful vibrational frequencies relates to how we think and feel and helps you to gently re-balance that particular emotion or thought pattern. It is these old patterns that cause us to experience disharmony in our lives and within ourselves, and as we begin to re-balance them so we can begin to find a greater inner peace and equilibrium.
In Dr Bach's own words; "There is no true healing unless there is a change in outlook, peace of mind, and inner happiness."
How Do They Work?
Through his extensive studies, research and observation Dr Bach came to recognise that although his patients came to him with very similar problems and difficulties their reaction to these situations was not necessarily the same.
He discovered that using an appropriate flower essence to treat a patient's emotional and mental reaction to their life situation promoted greater balance & harmony and a beneficial and lasting change was facilitated. His motto was always 'treat the patient not the disease'.
Dr. Bach said of his remedies: "These remedies work, not by attacking disease, but by flooding our bodies with the beautiful vibrations of higher nature, in the presence of which dis-ease melts as snow in the sunshine".
The gift of the Bach Flower Remedies is that they provide not only a very useful set of tools for re-balancing ourselves at many levels, but also an indepth and profound way of understanding ourselves at all levels of our being - mind, body & spirit.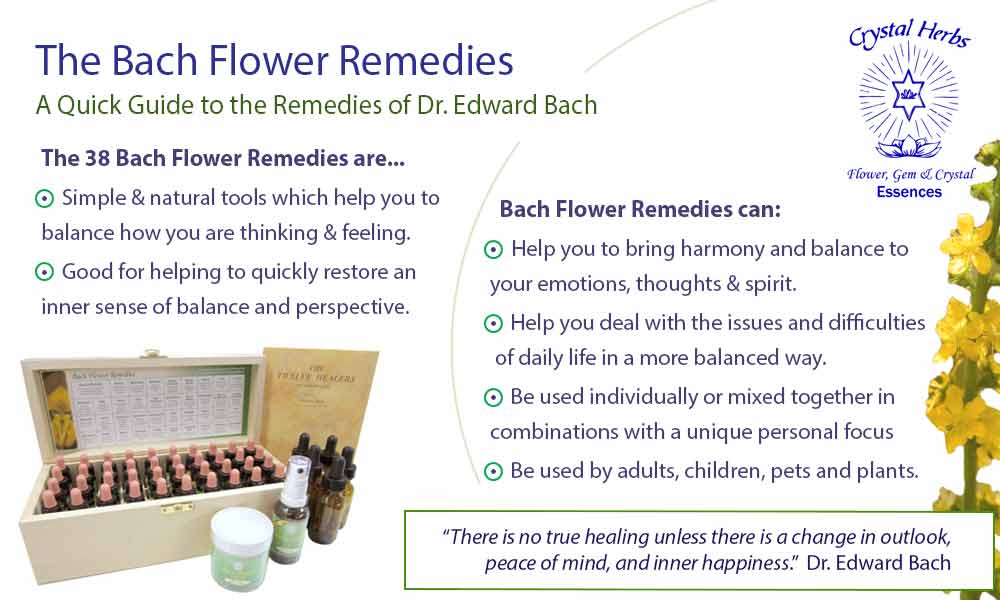 A List of the Bach Flower Remedies
From Agrimony to Willow - you can follow the links to each remedy in the shop to find out more about it.

Bach Flower Remedy Chart
How to Use the Bach Flower Remedies

The gentle acting Bach remedies are ideal for working with issues at a surface level of awareness, so how you are thinking and feeling in the moment.
There are 38 different Remedies, from Agrimony to Willow, each one working with a different emotional state or thought pattern, and a combination for emergency situations.
They are very simple and easy to use. Nora Weeks, a friend and colleague of Dr Bach, wrote that he would say: "I want to make it as simple as this: 'I am hungry, I will go and pull a lettuce from the garden for my tea; I am frightened and ill, I will take a dose of Mimulus' ".
You can easily self prescribe the Bach Flower Remedies by focussing on how you are thinking and feeling and on what is going on within yourself and then choosing the appropriate Essence to help. So for example, if you feel guilty about something, take some Pine, or if you feel ungrounded and absent minded, take some Clematis, or if you feel a sense of hopelessness, take some Gorse.
The Essences can be used singly or mixed together into a combination, which is a very effective way of using them. If you need help and advice, please do be in contact with us and we'd be happy to help. You can find out more about the Choosing and Using the Bach Remedies.
Dr Bach & the Bach Flower Remedies - A Brief History
The 38 flower remedies were developed by Dr Edward Bach in the U.K. during the 1920's and 1930's and are now collectively known as the Bach Flower Remedies. Even today the 38 remedies that he discovered remain the most well known and frequently used of all flower essences.
Dr Bach is often considered to be the 'founding father' of modern day flower essences and with good reason, since his pioneering work has provided the inspiration and foundation for the great expansion that has taken place in this field over recent years.
Dr. Edward Bach was a medical doctor and a man with ideas that were well ahead of his time. The driving force behind his whole life was his dream of finding a simple form of 'medicine' in the shape of pure natural remedies, which would be readily available to everyone and capable of promoting positive change. It was his vision that this simple treatment would one day replace the more complicated scientific approach of his day.
His life path led him from being a doctor at University College Hospital in London, where he also researched vaccine therapy, through to pathology and bacteriology at the London Homoeopathic Hospital, a Harley Street practice and then discovering the 38 flower essences. He was enormously enthusiastic, dedicated and driven in pursuit of his dream and was prepared to give up whatever material success he had to achieve it. Edward Bach lived a relatively short but very fascinating life and what we know of it mainly comes from the his work and writings, the biography written by Nora Weeks and from the personal accounts from the other people who knew him. You can find out more about his life here: Dr Edward Bach.
The Importance of Dr Bach's Work & Philosophy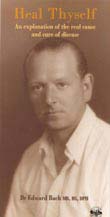 Dr Bach's legacy to us is a great deal more than these 38 remedies, wonderful though they are. Of at least equal importance is the philosophy upon which he based his work and lived his life. This shines clearly through the letters, public speeches, books and pamphlets that he left behind, providing us with a very necessary foundation for understanding the truth about human wellbeing.
Dr. Bach's vision for physicians of the future was that they would be able to guide and help their patients to discover the source of their own ailments from within themselves, while at the same time providing the correct natural remedy to help rebalance body and soul.
Dr Bach is often considered to be the 'founding father' of modern day flower essences
Dr Bach's philosophy is as simple as it is profound. He carried an innate understanding that life on the physical plane of existence is intended to be a conscious partnership between the physical (personality) and non-physical (soul) aspects of ourselves. He believed that disharmony in the physical body was simply a 'reminder' that the personality self was in some way out of alignment or balance. You can find out more about Dr. Bach's Philosophy & Understandings
Meet Some of the Bach Remedies

Agrimony Bach Remedy - Agrimony restores the ability to express ones true feelings and emotions no matter what these might be.

Clematis Bach Remedy - Clematis helps those who all too easily drift off into daydreams and fantasies about the future..

Centaury Bach Remedy - Centaury restores the qualities of inner strength & self-determination.
Our Latest Bach Flower Essence Review...
Clematis – Bach Flower Remedies
24th November 2022

Clematis helps those who all too easily drift off into daydreams and fantasies about the future feeling that life will be better there, than it currently is. People in need of this remedy seem to be generally inattentive or sleepy and might complain of forgetfulness or a lack of concentration. They often have cold feet and hands, and often need lots of sleep.
How Are the Bach Flower Remedies Made?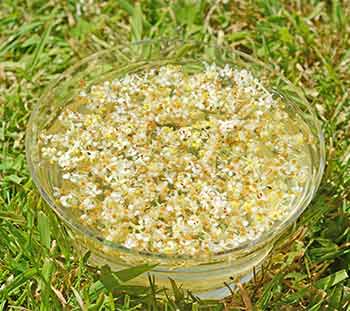 Dr. Bach left very specific instructions on how to make the 38 remedies he discovered, as it was his desire that they should be freely available for everyone. You can find details on how to make the Bach mother tinctures in both 'The Twelve Healers & Other Remedies' - Dr. Bach's original work and 'The Healing Herbs of Edward Bach' by Julian Barnard; an excellent book offering both instruction in the mother tincture making process and also help with identifying the relevant flowers, plants or trees.
Some Quotes from Dr. Bach
"Treat the patient, according to the mood, according to the character, the individuality and you cannot go wrong. Take no notice of the disease, think only of the outlook on life of the one in distress. The mind is the most sensitive part of our bodies, and hence the best guide to tell us what remedy is required."
"There is no true healing unless there is a change in outlook, peace of mind, and inner happiness."
"Health depends on being in harmony with our souls"

Our Flower, Gem & Crystal Essences
Here at Crystal Herbs we have been making and developing our range of Essences for nearly 30 years. Crystal Herbs is run by Catherine Keattch and Sam Cremnitz, along with a dedicated team who are all trained practitioners and healers in their own right. We are a specialist Flower Essence producer and we're passionate about all aspects of Vibrational Essences.
You can find our full range of Essences in the Flower Essence Shop, or an overview of the different essences we make here and you can find out more about us here: Crystal Herbs