The Divine Harmony Essences
Flower, Gem & Crystal Essence combinations for personal & spiritual growth
The forty Divine Harmony Essences are designed to support your inner journey towards greater wholeness and self-awareness, activating and aligning you with your own highest potential.
Balancing & Integrating Mind, Emotions & Spirit
Divine harmony is a state of inner balance in which mind, emotions and spirit work together as an integrated whole. It is the essential core foundation for the creation of greater peace, love, joy, self-empowerment and wellbeing in our lives.
This powerful set of Flower, Gem & Crystal Essences provides the tools that can help us restore the balance between mind, emotions & spirit that will allow us to manifest our own highest potential. Each combination contains a carefully selected blend of essences and facilitates inner change & transformation that is gentle, effective and life enhancing.
The Divine Harmony Essences
The forty Essences in this set can be bought as individual bottles or as part of a sets of ten or a complete set of all 40; in either 10ml or 25ml size bottles.
About the Divine Harmony Essences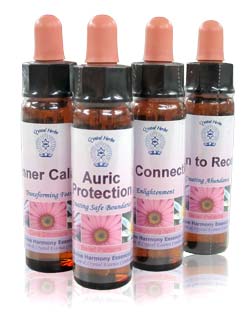 The Divine Harmony Essences are a response to the needs of the moment for tools that can fully support our inner journey in these challenging times of change and expanding consciousness.
No matter what the issue that you maybe seeking help with, begin by blessing it as a gift that can open the doorways to new understandings and ultimately greater fulfilment in your life.
Troublesome issues, whatever form they might take, are simply signposts that are pointing us towards the need for more balance, harmony and integration in our own inner world.
Divine Harmony Essence Groups
The forty essences in this set are divided into four groups that reflect the most important areas of focus for us all as we seek to achieve this state of inner balance and wholeness.
1 - Transforming Core Emotions
2 - Transforming Belief Patterns
Find out more about the Divine Harmony Essence Groups here
Choosing the right Combination for you
Start with the Essence that will help you to bring balance to the issue that feels the most difficult or the most important. As the old energies surrounding that particular issue are gently released and rebalanced the next layer that needs to be worked with will present itself.
More Information
How To Use the Divine Harmony Essences
Take four drops on the tongue directly from the bottle between two & four times a day. Finish the whole bottle then re-check to see if more of that particular combination or another is needed.
We do not recommend taking more than one combination at a time. Preferably take 10 minutes away from food and drink. These are all stock level combinations. To gain maximum benefit from your combination we recommend that you take it without further dilution.
Storage Advice - It is best to store vibrational medicine in a cool place away from TV's, mobile phones, microwaves, computers etc.
Please Note - Using vibrational essences does not replace medical treatment.
Help & Advice
If you need any help or advice with choosing or using the Divine Harmony Essences, please see our Choosing An Essence page or you are most welcome to contact us if you would like to speak to someone.

Handmade with Love & Care
From making the Mother Tincture to bottling and labelling the stock bottles that we send you, each essence is handmade with love and care helping to ensure that we provide you with the best possible quality of essence.