About Jackie Stewart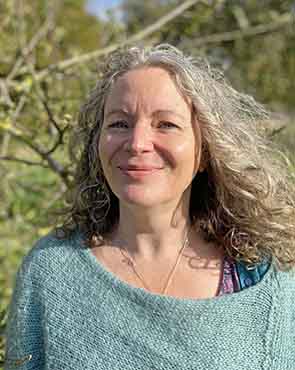 Jackie has been with us since 2019.  She is a trained essence practitioner, energy healer and workshop facilitator who loves holding space for people connect to their hearts, bodies, and souls. Jackie is passionate about how flower, gem and crystal essences help us to open our hearts so that we can live more consciously and lovingly, in sacred relationship with all of Life.
About Me...
Flowers Open Our Hearts with Beauty, Awe and Wonder
I grew up on the wild west coast of Scotland where the spirits of the plants and the ancestral wisdom held within the land were a strong loving presence in my life. I have always felt a deep love and appreciation for the natural world, and how flowers open our hearts with beauty, awe, and wonder.
Discovering flower essences in my 20s felt like a homecoming to what my soul already knew – that the vibrational frequencies of plants open our hearts and expand our consciousness so that we can remember who we truly are. It makes complete sense to me that vibrational essences made from the vital life force of our beautiful sentient world have a profound impact on our emotional wellbeing and spiritual evolution. We too, are part of the living world so we too are here to blossom into our fullest expression of love and shine our light. It blows me away how unconditional love is continually being transmitted from the wild heart of nature, and when we take an essence we receive this transmission very directly.
I love how flower essences help us to become fully present with how we're feeling and transform pain into love. Essences embody the vast consciousness of the natural world so they help us to wake up to the vastness of who we are and why we are here at this powerful time of personal and planetary evolution.
Working With Essences
I've worked with essences for over 20 years in many different forms from making and selling essences, writing about them, teaching courses about them, and offering one-to-one consultations.
My greatest joy is creating opportunities for people to connect with plant spirits because this ancient relationship is something that I believe our hearts and souls need for balance, and the plants want us to be in living conversation with them too. For many years I offered flower-essence making workshops where people could receive healing and guidance from plants while making their own essences. In 2011, I set up a community project to grow the Bach Flower Remedy plants and teach people how to choose and use Bach Flower Remedies for themselves.
I love creating spaces for people to dive deep into exploring their inner world through essences so I've developed and taught a wide range of courses and workshops with that focus. In 2016, I created and facilitated a professional Flower and Vibrational Essence Practitioner training course that was accredited by the BFVEA. This transformational journey ran twice with very skilled essence practitioners graduating from the course.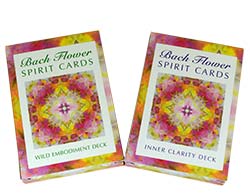 In 2017, I self-published the Bach Flower Spirit Cards with nature photographer Jason Smalley and wrote the guide to the Bach Flower Remedies that accompanies the cards. The intention with the cards was to give people a direct transmission of the energies of the Bach Flower Remedies through creating the cards very consciously with the spirits of the plants themselves.
I've always found it strange that flower essences are not more widely known (I mean seriously, why is everybody not taking them?!), so I've written many blog posts and articles to educate and inspire people about essences. My writing has been published widely including in the Earth Pathways Diary, Tiny Buddha, and Elephant Journal.  I was also part of the team that published Sentire essence magazine to raise awareness of the power of vibrational essences and elevate the voices of the wider essence community.
Although I love many different essence ranges, I have always felt a deep soul connection with Crystal Herbs Essences. When Catherine invited me to move to Norfolk to work at Crystal Herbs in 2019, it felt like the most natural next step on my essence journey.
Jackie's Essence Journey
I first took Bach Flower Remedies in my early 20s when I was experiencing a real dark night of the soul and had debilitating migraines that lasted for days at a time. I remember feeling lost and desperate and began taking gorse for hopelessness and wild rose for apathy. I soon felt better - it was as though a light had been switched on inside me.
Soon afterwards, I met Shimara Kumara who had originally set up Crystal Herbs. She handed me a bottle of Earth Star Essence and calmly told me that I wasn't in my body but this essence combination would help. She was right! I went on to train in the Eternal Light Healing System with Shimara, and later met Catherine and Colin at Crystal Herbs. I remember feeling an instant resonance with Crystal Herbs Essences. I knew then that flower essences were my path and calling, and that certainty has been as steady as the rhythm of my own heartbeat ever since.
I joined the College of Vibrational Medicine Flower Essence Practitioner Diploma in 1999 but didn't complete it until 2003 because my son was born in the middle of the 2 year course. Both Catherine and Sam were teachers on the training, and the space they held to explore the psychological and spiritual aspects of the inner journey that essences can take you on was profound and life-changing. Being absorbed in the world of essences and taking them regularly throughout that time was a time of accelerated self-awareness, powerful emotional shifts, and expanded spiritual connection.
I've also had the joy of learning about essences in workshops with Steve Johnson and Judith Poelarends of Alaskan Essences, Rachel Singleton of LightBringer Essences and Muriel Pichard of Atlantic Essences. I've studied and explored a wide range of subjects in my quest to discover what it means to live from the heart, heal pain and trauma, dismantle systems of oppression, live in right relationship with the natural world, and experience the vastness of our souls. The Old Magic Ways of Britain (British Native Shamanism) with Elen Sentier and Energy Alchemy with Hiro Boga were particularly transformational.
Life is a spiralling journey that has the potential to keep taking us deeper and deeper into our hearts to discover the secrets of the cosmos. I believe that vibrational essences are the soul medicine that we need to keep opening our hearts so that we can transform old patterns, stories and emotions and collectively awaken to our true nature of love, joy, and freedom. It's a beautiful time to be alive and I believe in our potential as a human race to co-create a heart-centred world where we remember our true nature of Love so completely that we treat all of Life as sacred.
Outside of Work
I'm happiest outside so you're most likely to find me barefoot in my garden tending the plants, playing in the woods, going for long walks in the countryside, drumming to the ocean, or singing (tunelessly) to the nature spirits. I'm devoted to deep rest and honouring the sacred every day and need a lot of solitude and silence to recharge my batteries. I have a very rich inner world and a strong spiritual practice including yoga, meditation, and personal nature ceremony. Reading, writing, making art, spiritual pilgrimage, deep conversations, dancing, listening to music, visiting exhibitions, cooking, and eating yummy food are some of the things I love almost as much as I love essences!
More From Jackie Stewart...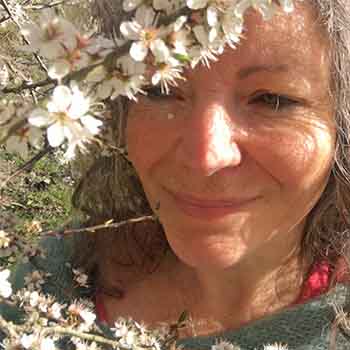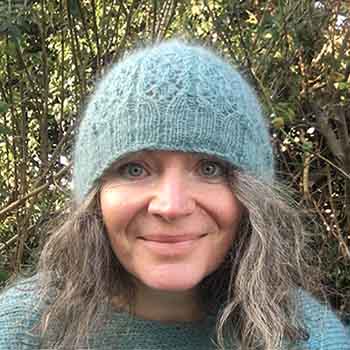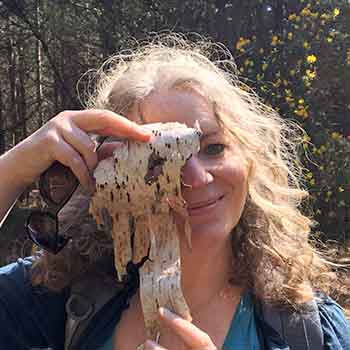 See Also:
Sam Cremnitz | Catherine Keattch
About Crystal Herbs
Crystal Herbs have been making and selling Flower, Gem & Crystal Essences for over 30 years and our focus is on providing you with the best possible quality of essence. To that end all our essences are hand made with love and consciousness, from making the mother tinctures, to bottling and labelling the bottles that we send you.
Crystal Herbs is run by Catherine Keattch and Sam Cremnitz, along with a dedicated team who are all trained practitioners and healers in their own right. We are a specialist Flower Essence producer and we're passionate about all aspects of Vibrational Essences. We have been making and selling our range of Essences for 30 years and have customers all over the world.
We are passionate about essences! We've been creating and developing Essences for over 30 years and helping people with essences is our great joy. All of the essences that we offer are handmade with love & consciousness.
As a specialist Flower Essence company our main focus is on producing the best quality Flower, Gem & Crystal Essences that we can so that you have the tools that you need to empower and help yourself. All of our essences are handmade with love & consciousness.
We offer a comprehensive range of different essences which together form a wonderful resource for anyone working with change, transformation and personal and spiritual growth.
We're here to help, so if you have any questions or if you need any support while you're using an essence, please do contact us!
U.K. & Worldwide Shipping - we are based in the lovely county of Norfolk in the U.K. and we send to individuals, practitioners and shops throughout the U.K., the E.U. and all around the world.
More About Crystal Herbs

Handmade with Love & Care
From making the Mother Tincture to bottling and labelling the stock bottles that we send you, each essence is handmade with love and care, helping to ensure that we provide you with the best possible quality of essence.