How are Flower Essences Made?
At Crystal Herbs all of our Flower, Gem & Crystal Essences are handmade with love and care, from making the mother tincture to bottling & labelling the stock bottles that we send you. This helps to ensure that we provide you with the best possible quality of essence.
How to Make Flower Essences?
Essentially, Flower Essences & Gem/ Crystal Essences are made by transferring the energy or vibrational frequency of a flower, gem or crystal into water.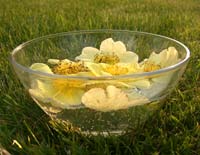 Making the Mother Tincture
The Mother Tincture is the first stage of the process.
Each Flower, Gem, Crystal or Mineral is placed in pure water in a thin glass bowl and left in full morning sunshine for three hours.
Using the natural power of the four elements - Earth, Air, Fire & Water - the life force or energy of the flower or mineral used is transferred to the water*.
The Mother tincture is the first step of the making process and is where the flower or gem essence is created from the vibrational frequency of a flower, gem or crystal
This unique positive energy is then preserved in brandy or vodka, creating a mother tincture, which is then amplified using crystals, pyramids and the natural elements under guidance. No physical part of the flower or mineral is used in the mother tincture - it is purely the vibrational frequency or energy.
*All our mother tinctures are made in this way with the exception of 18 of the Bach Flower Remedies - mother tinctures for these are made by the boiling method as instructed by Dr. Bach.
Making a Stock bottle

Drops from the Mother Tincture are then used to make a stock level dilution, which is the first dilution down from a Mother Tincture.
Stock bottles can be made up from either a single Essence or a combination of a number of different Essences.
Our stock bottles are all hand bottled and labelled with loving care, and are the dilution that you purchase from us at Crystal Herbs.
Additional Information
How Do I Make a Bach Flower Remedy Dosage Bottle?
From a Bach Flower Remedy stock bottle, put 2 drops (4 drops of Revival Remedy combination) from each of the stock bottles that you have selected, into a clean glass dropper bottle containing no more than 30ml of spring or spa water, together with a teaspoon of brandy or cider vinegar as a preservative. Dr Bach called a combination made in this way, a treatment bottle. You can find out more here - Bach Flower Remedies.

Our Flower, Gem & Crystal Essences
We make a a wonderful range of Bach Flower Remedies and Flower, Gem & Crystal Essences. You can find our full range of Essences in the
Flower Essence Shop, or an overview
of the different essences we make here.