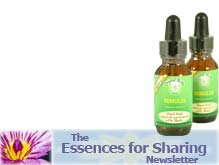 'Essences for Sharing' Newsletter Archive
Here you can find the last years worth of editions for our 'Essences for Sharing' newsletter.
The Past 12 Editions
July 2019: Queen Anne's Lace - Clarity & Focus of Spiritual Ideas - our latest Essence review is for Queen Anne's Lace. This lovely Essence stimulates the development of clairvoyance (inner vision) and telepathy. It opens the crown chakra and calms the mental body, enhancing the ability to see the bigger picture of a situation.
June 2019: The Sphere Essence - Creation & the Divine Feminine - our Essence Review for June was for the Sphere Essence from the Platonic Solid & Sacred Geoemtry Essences. The Sphere represents the Void, the place from which all of creation is initiated. This is a deep, feminine energy that will help connect you with your own creative, sacred centre.
April 2019: Calmness & Grounding - our Essence Review for April is for the Dandelion Flower Essence. This lovely Essence helps to release tension from the mental body, bringing calmness to an overly active mind, drawing you deeper into yourself and connecting you more fully with the present moment.
March 2019: Restoring Patience - our Essence Review for March is for the Restoring Patience combination. This powerful Essence helps to dissolve vibrations of impatience, frustration & irritability, encouraging greater stillness and the ability to be in the now.
February 2019: Loss & Sadness - our Essence Review for February is for our Snowdrop Flower Essence. This lovely Essence is all about coming to terms with the pain of bereavement, separation, sadness and loss, and helps to restore a sense of hope and joy for the future
January 2019: Creativity, Emotions & Sexuality - our Essence Review for January is for our Sacral Chakra Essence. This Essence combination is all about creativity, emotions and sexuality. It's really helpful if you find it difficult to express or get in touch with your emotional needs, or you experience out of balance emotions, relationship difficulties, low self-image, anger, frustration, impatience, blocked sexuality or creativity.
December 2018: Energetic Alignment & Soul Connection - our Essence Review for December is for our Energetic Alignment Spray. The Energetic Alignment spray helps to bring all your subtle bodies, chakras and subtle energy points into greater alignment. It is an excellent spray to use before meditation or contemplation and enhances your connection with your own inner wisdom and soul guidance. It is also a very effective spray to use when you feel energetically scattered, ungrounded and disconnected from yourself.
November 2018: Being in the Here & Now - our Essence Review for November is for the Valerian Flower Essence. Valerian is a wonderful Essence for grounding. So if you feel a deep dis-connection from your physical body, often feel ungrounded or spaced out, have an inability to function fully in the world or a recurring feeling of not wanting to fully be here in the now, this would be a very helpful Essence.
October 2018: Loneliness & Separation - our Essence Review for October is for the Water Lily Flower Essence. The Water Lily Essence works with deep feelings of isolation and loneliness. Its helps to clear and release unexplained feelings of grief and sadness, feelings that you do not belong here and deep old heart chakra blocks and barriers. Water Lily gently dissolves these old patterms & energies, bringing understanding and the ability to reach out to others once again.
September 2018: Integrating Light & Expanding Perspective - our Essence Review for September is for the Azeztulite Crystal Essence. Azeztulite expands perception and the ability to see beyond the accepted norm of everyday reality. It helps open your connections with the Earth and increases capacity to receive and use high frequency light. It also opens the crown and higher chakras. It's an excellent Essence to help clear away blocks and negative patterns that inhibit soul integration.
August 2018: Centering & Meditation - our Essence Review for August is for the Quartz Amethyst Crystal Essence. Amethyst is a particularly helpful essence for those working with issues relating to low self-esteem or who need support to stay centred and balanced in their own energetic space. This essence enhances meditation and fosters a greater awareness of Source/ Divine Intelligence. It is also helpful for those who find it difficult to fully integrate with society.
July 2018: Transforming Feelings of Guilt - our Essence Review for July is for the Hyssop Flower Essence. Hyssop alleviates deep feelings of guilt whether these are conscious or unconscious. It is only as we allow ourselves to confront the old memories to which our guilt is attached that we can begin to forgive ourselves and recognise that we have learned from the experience. This essence helps us to do this, releasing much mental and emotional tension in the process.
June 2018: Learning to Trust & Allow - our Essence Review for June is for the Wild Iris Flower Essence. This is a really good Essence for those working with deep unconscious feelings of responsibility for the welfare of others or the planet. It's helpful for where there are unresolved power issues, the need to change others, to be in charge or feelings of deep responsibility.
May 2018: Masculine Balance, Leadership & Intuition - our Essence Review for May is for the Sunflower Essence. Sunflower opens the heart chakra and balances the inner yin & yang energies. It helps out of balance male energies and transforms feelings of anger or hostility related to the father figure. Sunflower is also a helpful essence to stimulate the flow of higher wisdom and increase intuition.
Essences for Sharing Newsletter
Essence Reviews and Special Offers
Essences for Sharing is focussed on our Flower, Gem & Crystal Essences. Each month we do an indepth review of one of our Essences or combinations; what it does and how it can help you. These reviews are a great way to get to know the Essences. You can also find our current special offers on Essences and Sets and our latest news.
Other Email Newsletters
E-Light Newsletter: E-Light is all about personal and spiritual growth and how Essences can help you with your personal journey. Each month we explore the energetic themes and issues for the month from a spiritual and astrological perspective and recommend some Essences to help you with these issues. It also includes our latest news and montly special offers on Essences and Sets.... E-Light Newsletter
Crystal Herbs – Your Flower Essence Shop & Resource