Bach Flower Remedies
A Guide to the Bach Remedies
- their use and the philosophy behind them
Bach Flower Remedies are a wonderful resource that can be used to help everyone achieve greater balance and harmony in their lives. Simple, effective and easy to use they can be given to adults, children, pets and plants without fear of side effects, overdosing or addiction. No specialist knowledge is required to use them other than an open mind and the ability to be self reflective and observant of those around you.
About the 38 Bach Remedies
There are 38 Bach Flower Remedies, each containing a unique, positive vibration taken from a flower, tree or plant. Each one will help to gently rebalance the vibration of those emotions and thought patterns that cause us to experience disharmony within ourselves, because in Dr Bach's own words; "There is no true healing unless there is a change in outlook, peace of mind, and inner happiness."
These gentle acting remedies work best on issues that are on the surface of our awareness and are excellent mixed into combinations.
Buy Bach Flower Remedies Online
Crystal Herbs
Bach Flower Remedies
Our Bach Flower Remedies are made by hand with love & care according to the original instructions of Dr Bach and are preserved in organic brandy.
Find Out More About Bach Flower Remedies
Latest Bach Flower Remedy Blog Articles
About Our Bach Flower Remedies
Dr Bach's Legacy
The 38 flower remedies developed by Dr Edward Bach during the 1930's are now collectively known as the Bach Flower Remedies and even today remain the most well known and frequently used of all flower essences. However, Dr Bach's legacy to us is a great deal more than these 38 remedies, wonderful though they are. Of at least equal importance is the philosophy upon which he based his work and lived his life. This shines clearly through the many letters, public speeches, books and pamphlets that he left behind providing us with a very necessary foundation for understanding the truth about human wellbeing.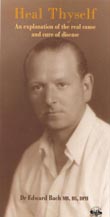 The activating force behind his whole life was his dream of finding a simple form of 'medicine', which would cure all types of disease and that would be readily available to all, in the form of pure, natural remedies. It was his dream that this simple treatment would ultimately replace the more complicated scientific approach.
His vision for physicians of the future was that they would be able to guide and help their patients to discover the source of their own ailments from within themselves, while at the same time providing the correct natural remedy to help rebalance body and soul.
Dr Bach is often considered to be the 'founding father' of modern day flower essences and with good reason, since his pioneering work in the 1930's has provided the inspiration and foundation for the great expansion that has taken place in this field over recent years.
Beyond the Bach Flower Remedies
As well as the Bach Flower Remedies, the work of Dr Bach has provided a foundation point for the development of many other essences.
At Crystal Herbs we have developed a large range of different flower, gem & crystal essences all designed to help facilitate the all-important process of inner change. As well as the gentle acting Bach Flower Remedies, we also offer a range of deeper acting Flower, Gem & Crystal Essences designed to focus on specific issues or potentials.

You can find out more on our complete range of essences, including the Karmic Essences | Divine Harmony Essences | Chakra Essences here:-
Our Complete Range of Essences

Handmade with Love & Care
From making the Mother Tincture to bottling and labelling the stock bottles that we send you, each essence is handmade with love and care, helping to ensure that we provide you with the best possible quality of essence.