Exploring Flower, Gem & Crystal Essences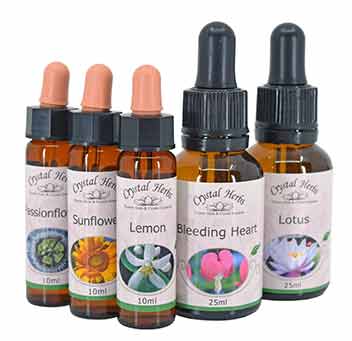 Discover more about Flower Essences & Other Vibrational essences
Flower & Vibrational Essences are effective, supportive and versatile gifts of nature. They provide support for all types of emotional and psychological wellbeing, as well as helping you to deepen your conscious soul connection and balancing your mind, body & spirit. From the Bach Flower Remedies, to Flower Essences, Crystal Essences and other Vibrational Essences there is so much to explore.
Here you can find out all about Flower & Vibrational Essences, from what they are, to how to they work, how to choose and use and much more!
Discover Flower, Gem & Crystal Essences!
All About Flower Essences & Vibrational Essences

Introduction to Flower, Gem & Crystal Essences: Essences work at an energetic level to help you to re-balance your thoughts, feelings and subtle energy systems and are powerful tools for inner change & transformation. Using Essences can have a profound influence on your inner journey of personal & spiritual growth, and can help you to raise your level of awareness and consciousness. Find out more about Flower Essences, what they are, how they work, and to use and choose and more.
The Bach Flower Remedies & Dr. Bach

Created by Dr. Edward Bach in the 1930's the Bach Flower Remedies are an important set of 38 Remedies which can help you to restore a sense of balance and harmony in your life. Find out more about the 38 Bach Remedies, Dr. Bach and and his philosophy and understandings.
Choosing An Essence For Yourself

Choosing an essence either for yourself or someone else is an easy and simple process. Here you can find our Essence Selector and tips & advice for choosing an essence.
How Essences Can Help You & How They Work

Flower & Vibrational Essences help you to release the energetic patterning of old thoughts, attitudes, emotional issues and energies that no longer serve you.
Exploring the Different Types of Essences

At Crystal Herbs we have developed a large range of different flower, gem & crystal essences all designed to help facilitate the all-important process of inner change.
How are Flower Essences Made?

Essentially, Flower Essences & Gem/ Crystal Essences are made by transferring the energy or vibrational frequency of a flower, gem or crystal into water.
How to Use Essences

Flower, Gem & Crystal Essences are simple and easy to use. Here you can find out how to use all of the different essence types that we offer.
Using Flower & Vibrational Essences With...

Help and advice on using...
Essence Reviews

Each month we pick one of our Essences, sometimes a single Essence and sometimes a combination Essence, and write an in-depth review of it. You can all our reviews here.
Questions & Answers

We're often asked for help in choosing an essence for a particular situation, and here you can find some in-depth answers to the questions that you've asked.
Frequently Asked Questions

Essences are simple and easy to use, but lots of questions always come up. Here are some of the important questions that we are most often asked.

Our Flower, Gem & Crystal Essences
Here at Crystal Herbs we have been making and developing our range of Essences for nearly 30 years. Crystal Herbs is run by Catherine Keattch and Sam Cremnitz, along with a dedicated team who are all trained practitioners and healers in their own right. We are a specialist Flower Essence producer and we're passionate about all aspects of Vibrational Essences.
You can find our full range of Essences in the Flower Essence Shop, or an overview of the different essences we make here and you can find out more about us here: Crystal Herbs